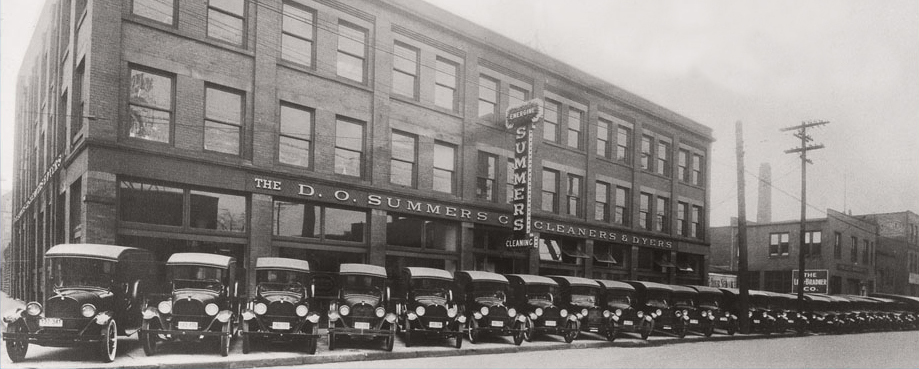 A Leader for More Than a Century.
In the world of dry cleaners, D.O. Summers Cleaners is a veteran, with over 140 years of experience behind its prestigious name. Established in 1881 by Donald Oliver Summers, it was purchased by Abraham Goldberg in 1939 and managed by the Goldberg family ever since.
For many years, D.O. Summers Cleaners offered dry cleaning, rug and drapery cleaning and a shirt laundry business at its main plant in downtown Cleveland. From there, it grew exponentially, setting up stores and "routes"-pick-up and drop-off stations- throughout Cleveland. As the company grew, the business began to redefine its specialties. Rug cleaning was phased out, and the company's focus turned to family laundry and dry cleaning.
During the 1950's, an all-time high of 61 outlets existed, comprised of 54 stores and seven routes. It was during this period that D.O. Summers Cleaners made its next major move into "self-contained package plants," which meant equipping stores with the necessary machinery to enable on-premise execution of all dry cleaning processes.
During the late '60s and early '70s, the company emphasized the on-site dry cleaning model, converting most of its locations to on-premise dry cleaners and eliminating all routes. At this time, dry cleaning and shirt laundry became its main business and the family laundry service was discontinued. In what was likely a reflection of home-decorating trends, drapery cleaning amounted to a very small percentage of the company's overall volume and was eventually eliminated altogether.
In the early '70s, D.O. Summers Cleaners operated 23 package plants, a main plant, and 17 storefronts, which outsourced their garments to the main plant for cleaning.
In 1971, the company made an innovative foray into another market by opening a uniform rental business. This decision was mainly linked to an effort to fully reactivate the downtown plant and put equipment, know-how and space back into use. The uniform rental business grew steadily and in 1983 it was sold to the Cintas Company. Today, as well as for the past three decades, D.O. Summers Cleaners prides itself on being a leader in the dry cleaning industry. All eleven current locations feature state-of-the-art equipment, offering exclusive on-site cleaning systems, which use only the highest quality and safest processes available. Over ten years ago the dry cleaning chain showed its dedication and commitment to making a difference – for both humans and the environment – by implementing an environmentally friendly cleaning system free of perchloroethylene, a harmful chemical and suspected carcinogen.
How does a company turn 140 years old? By emphasizing quality and service. Close management involvement is another key reason why D.O Summers Cleaners has been in the Cleveland area for so many years. Added to that are many conveniences offered to customers: drive-thru windows, 24-hour express drop boxes, 24/7 Locker pickup and delivery, free pick-up and delivery to customer's homes or offices, and same day "In by 10am, Ready at 5pm"…Guaranteed or it's FREE!
D.O. Summers Cleaners employees also make a difference. Many of them have been with the company for long periods of time, building continuity and trust. Over the years, the Goldberg family has given a tremendous amount of responsibility to their employees. This trust is reciprocated, resulting in high standards for both the consumer and the company.
Now, as always, D.O. Summers Cleaners stands firmly committed to providing their customers with the very best in quality and service for many more years to come.